Table of contents
Genuinely connect with your visitors
From our reviews
Do not lose your business needlessly. While shopping around for Christmas presents, we discovered (and used) our live chat on various websites and noticed several bad habits that cost online businesses both customers and conversions.
By adhering to a few basic principles you can greatly improve the probability of customers purchasing from you, rather than your competition. And from a single purchase it is just a step to becoming a loyal customer. The kind of customer that will naturally help you promote your brand.
Always try and help your customers if possible. If you cannot satisfy their needs fully try suggesting an alternative. If you believe you have a better solution or product for them, offer it. Be there for them, understand their issues. That is the only way to be able to help.
Make sure you stick to these principles:
Use online status only if you are actually available
Of course you cannot always be available. Do not let your customers wait for an answer if you are not really there - switch to the offline mode. You will be able to answer all the messages you received later.
Do not leave your customers waiting. If you are online and a customer writes to you, they expect to have your attention soon. If they receive no answer, they will not be very happy and there is quite a chance they will leave to purchase from your competition.
If you need to concentrate on other activities, switch to offline mode. Just click on your profile picture in the upper left corner and switch Availability into the off position.
Tip: If you have received a message and have not answered it yet, do not switch to offline mode (unless you really need to leave). Try and make sure to answer messages you received before you switch to offline. That way customers will not think you are trying to avoid them.
Tip: If you are not online and you use the contact form, customers may still send their message with email address attached. When you log to Smartsupp you can answer them in the same manner you are used to. Customers will receive the message in their email inbox. Set up auth form here.
Have an automatic message set up in case you cannot answer quickly
When you get busy chatting with a number of customers at once, it may easily happen that other customers need to wait before you can answer their questions. Set up an automatic message to apologise and ask for their patience.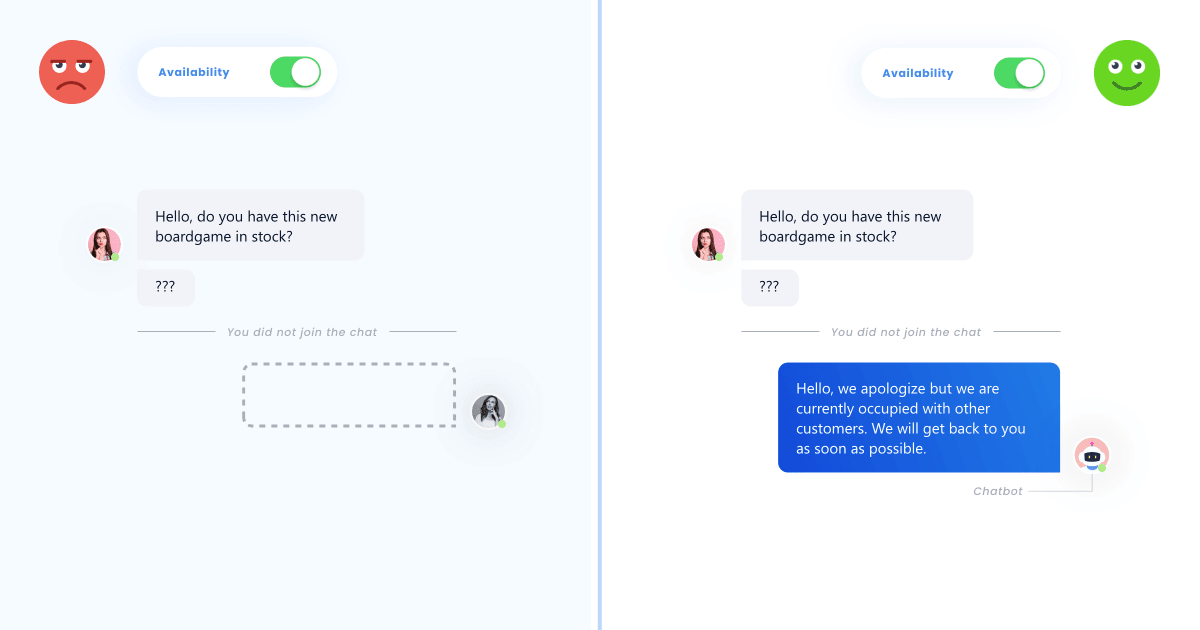 When the customer receives no message at all they may feel like nobody cares. Next stop for such a customer is your competitor.
Tip: For such situations, set up a chatbot. You'll gain extra time to finish your current conversations while not making the waiting customers feel like they do not matter to you.
Always let the customer know you are with them
Some questions take more time to answer - you need to look for info in your system or ask a colleague for instance. Tell your customers you are already working on their issue.
If you have already joined the chat, do not leave the customer without any response. Tell them you are already working on their request. They will not mind waiting so much then as they know you are already engaged with their issue. They may remember your willingness to help and gladly come back for more shopping next time.
Tip: Set up a shortcut for such situations. You will no longer need to write the message about working on the customer's issue - you will load the predefined message with only two clicks.
Respond fast thanks to shortcuts
Set up shortcuts in your Smartsupp account and respond to difficult or frequent questions immediately. Believe us: customers appreciate lightning fast reaction time.
You can create shortcuts really simply. Start with clicking on your avatar in the top left corner and continue to Shortcuts. Here, use the Add shortcut button (more in this article). You can use the shortcut in conversation by typing a slash (and the start of the shortcut name) into the standard box for your message.
Tip: Try to include all information to the shortcut text to ensure customers do not need to as follow up questions. This will show that you care.
Tip: If you work in a team, create some team shortcuts too. These will be available to all members of your team. You make the shortcut available to the whole team by changing the "Personal" to "Team" while creating or editing a shortcut.
Be professional in every conversation
Show your customers you value their visit to your store. Try to understand their problems, do the best you can to help. Just this attitude alone is often a competitive advantage.
When customers see that you care, they will not hesitate to ask you for help again in the future. Also, they will be glad to make an order in your shop because they will see you as reliable.
Effective communication, also via chatbot, is the key to drawing customers to your platform. For this purpose, you have to maintain fluency in your communication. You can rely on a paraphrasing tool to make your communication more effective. This online utility would help you create engaging messages with easy-to-understand vocabulary and better readability.
Tip: Keep your texts in line with your brand communication so your customers will know what they can expect from you. Being helpful even when dealing with a complaint is one of the keys to loyalty.
Do not leave the chat unless you are sure that the customer has no further questions
Manners apply in the virtual world the way they apply in the physical one. Once you have helped the customer, don't leave the chat immediately. Your customer may require further assistance.
Do not leave the chat until the customer has left your website or you have made sure they no longer need your assistance. Be there for them throughout the whole order process.
Tip: Set up a goodbye shortcut, named for example goodbye. You can then use it in conversation by writing /goodbye and pressing the Return key. Even polite farewells become a two-click-solutions.
Clean up your inbox with Resolve
The last tip will help you organize your conversations. With every resolve your inbox shrinks a little, leaving less chats to worry about and letting you care about those that have not been answered yet. And if a customer whose chat you resolved contacts you again, you'll see the conversation back in the open tab.
Tip: Once you resolve the conversation (by clicking the "Resolve" button), the customer can rate the chat using emojis (satisfied, neutral, dissatisfied) and a note. If you follow the 7 Principles, you are sure to have a lot of positive ratings. To use ratings, you must allow it in settings.