Today, we're going to cover not only why you may want to try some free live chat apps in your business, but also which ones to consider testing – check it out today.
Table of contents
Genuinely connect with your visitors
From our reviews
If you want to take your customer service experience to the next level, live chat could be one way for you to do so. Live chat apps are great for improving contact between your business and its website visitors, helping you to convert them into loyal customers.
Today, we're going to cover not only why you may want to try some free live chat apps in your business, but also which ones to consider testing.
Why should you use live chat apps?
There are a wide range of reasons why you should implement live chat on your website. Having an embedded live chatbox on your website is a signal for visitors that you offer them a fast and easy way to reach you, take care of client satisfaction, and that you want to provide an excellent customer experience.
Compared to other channels like phone and email, live chat is a preferable channel to communicate with support teams. Looking at the numbers, 73% of customers would go with live chat over the other aforementioned options.
If you are not convinced yet, we will be glad to show you more reasons why you should use a live chat app. Yes, there are more.
#1 Providing a short response time
The first and biggest advantage of live chat is the time of response. Customers can be sure that their problems will be taken care of right away. That's definitely the most significant superiority of live chats.
#2 Giving the option to chat with an agent
Interaction with a human being can be a convincing factor. Chatbots are useful in many situations, but they won't replace real assistants. Besides, by choosing live chat as a communication channel, customers avoid waiting on hold.
#3 Standing out from the competition
Having a live chat option is a great way for you to stay a step ahead of your competitors. First, it's good to research the competition to check how many use live chat to support their customers.
Over 41% of customers expect live chat on your website. You don't want to disappoint them, right? Check out our live chat solution.​​​​
#4 Generating new leads and increasing conversions
Live chats also generate leads. Sending a simple, welcoming message via chat like "Hello, how are you?" will be a stimulus to start a conversation if a customer spends some time browsing your website.
It's always easier to share some doubts about something if you approach clients showing them that you are ready to help. To write more personalized messages, you can add customer data such as a name thanks to a visitor overview feature
#5 Saving money
By choosing a free app like Smartsupp you don't have to worry about the costs, as you can simply embed a free live chat widget. If you would like to have some more features, upgrading is super quick and we have competitive prices.
Additionally, the canned response feature may help you save both time and money. The support team can answer quickly and support more clients simultaneously by having answers prepared to common questions. Being time-efficient means greater savings.
If you have an ecommerce store, you can prevent cart abandonment by embedding a live chat feature. It is a common problem that online shoppers don't complete their purchases, for which there can be a few reasons - a complicated payment process, expensive shipping, or just getting lost on the page. At some point, buyers may need some help, and you can provide it by using live chat.
#6 Getting customer feedback
You can get feedback immediately by interacting via live chat. It is an opportunity for you to get visitors' impressions about their experiences.
📰 If you want some more details on why you should use a live chat as a communication channel, click here to read an article about it.
What factors to take into consideration when picking live chat apps
Live chats are great facilitators and are highly beneficial to your business. To bring you as many benefits as possible, check if a chosen app has all the key features.
Customizable interface
Make sure there is an option to adjust your chatbox to make it an integral part of your website. Change the colors, text, size, and decide on the chatbox position. Adding a photo and description of the agent would also be an asset and add a personal touch.
Mobile app
With a mobile app, your support team can answer customer requests on the go. That means regardless of whether they are at the airport, on the train, or just away from their keyboard. Check if your chosen app works with your software.
Shortcuts
There are prepared answers to common questions that the customer service team receives on a daily basis. Also known as canned responses, they are a great feature to have because shortcuts will help save time. They allow agents to respond even quicker, which certainly improves the workflow. Besides, using shortcuts is a way to unify your brand's voice.
Detailed statistics
To analyze customer service quality, ensure that an available app provides detailed statistics. Thanks to this feature, you can track your customer satisfaction rating, response time, and number of answered or missed chats, etc. Insightful and detailed reports are vital because based on such data, you can make decisions that are best for your business.
Integrations
Check if each live chat app provides seamless integrations with other platforms like Google Analytics, WordPress, or PrestaShop. If you have an ecommerce platform or a website builder, it's good to check what integrations are provided. With them, you can automatically link data about customers to your live chat app. In case native integration is not possible, check if you can perform your own with an API (Application Programming Interface).
Multi-channel
This enables responding from various channels like email or Facebook Messenger from one place. It's a practical facilitating solution for a customer service team, allowing them to manage all messages and reply to questions instantly.
File sharing
This feature is also worth paying attention to. It's a time-saver for both customers and chat support teams when they can send each other pictures or other files. It would be helpful for your chosen app to have a drag-and-drop option.
Make sure your data are safe
Check how the app stores data, how they are secured, and what it does to provide data privacy and security.
Free live chats to check
As you can see, having a live chat is valuable for both your business and your customers. If you want to find out whether or not this solution is for you, we have prepared a list of some free live chat apps that are worth trying out.
#1 Smartsupp
Smartsupp is a free live chat app and a customer support tool. You can embed a chat widget easily on your website to improve the customer experience through enabling real-time conversations. We are happy to show you some of the features that will definitely improve your work and increase sales.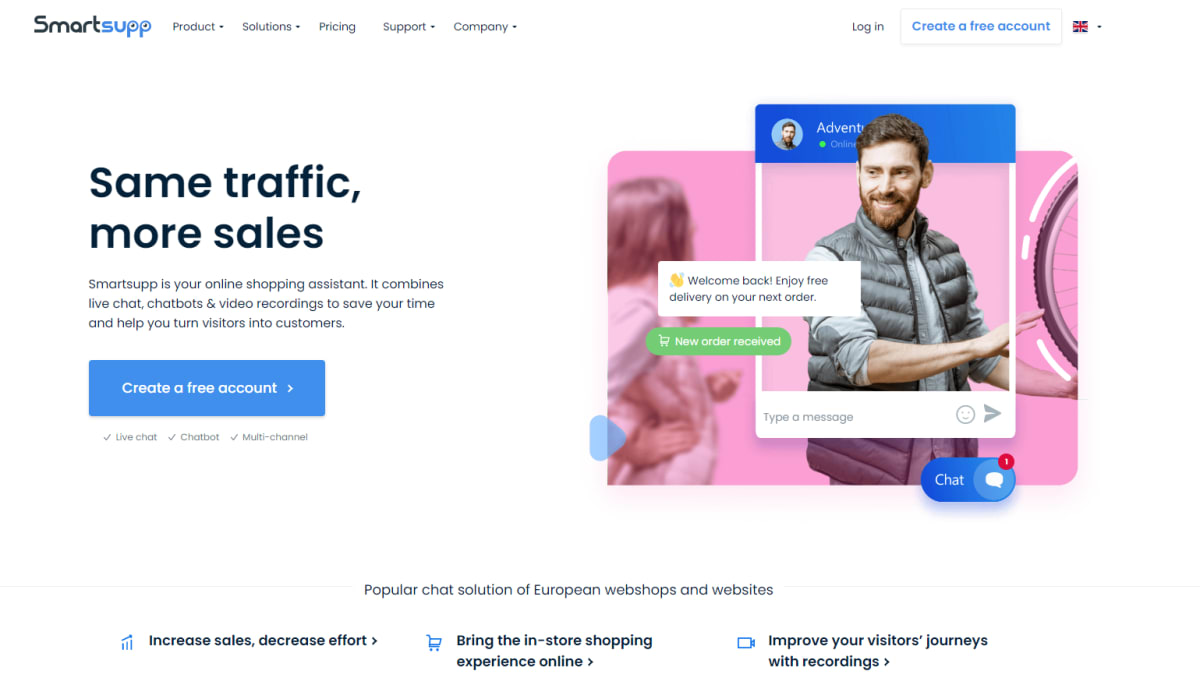 Free and paid plans available
Smartsupp offers live chats for free. Additionally, you can find three pricing plans with different and more advanced options:
Standard plan at €22.50 per month - for small teams
PRO plan at €108 per month - for larger teams
Ultimate plan - enterprise solution for companies that need a tailored plan and even more advanced features. The price depends on a company's needs, so no set cost is stated.
Except for the Ultimate plan, all paid options come with a 14-day free trial. If you want to check the whole offer, click here to see the details.
​​​​
Sometimes, a photo or document says more than a thousand words. That is why you and your website users can share files via live chat by simply using the drag-and-drop option.
It goes without saying – Smartsupp is very intuitive and easy to use.
Statistics at your fingertips
Thanks to advanced analytics, you can generate reports to measure agent activity and work performance.
You can use the mobile app on both Android and iOS.
Thanks to this feature, the customer support team can see information about customers: what they browse and buy, their names, the frequency of their visits to your website, and more.
The chatbox can be adjusted to your website design. With Smartsupp, you can change colors and fonts, as well as add some pictures and agent descriptions.
With Smartsupp, you can work on all major platforms like WordPress, Shopify, Google Analytics, PrestaShop, and more. Smartsupp integrates natively with over 65 platforms. If you need integrations with other platforms, you can do so with the API.
Smartsupp takes care of data storage, providing security and privacy. It is GDPR compliant, which means you have nothing to worry about in terms of data safety.
You can manage all conversations with customers from one inbox.
#2 OnWebChat
A free live chat software that offers real-time customer interaction. Below are some of the key features worth paying attention to.
Cons:
If you are an iOS user, there is no possibility for support team members to download the app and use it on the go. Also, the app interface could be better.
One paid plan is available
There is no choice other than the Premium plan at €5 per month for OnWebChat, which has a lot of chat features. Nevertheless, the lack of choice is a drawback here. Having more options to choose from is a sign of taking care of different companies' needs. Besides, there is no enterprise option available for bigger businesses.
OnWebChat integrates with only 9 platforms
You can type with your voice using a microphone only on the Chrome browser
Lack of multi-channel
Lack of reports about your agents' performance
Pros:
Visitor monitoring
Customizable chatbox
File sharing
Set notification sound for new messages
Typing insights - see messages in real-time before the send button is hit
White-label
You can hide the OnWebChat logo from your chat window.
#3 MyLiveChat
MyLiveChat is a basic chat app. A list of its cons, pros, and core features follows.
Cons:
Integration could be better
Lack of multi-channel - no possibility to answer messages from one place
Does not integrates with Facebook Messenger or email inbox
No shortcuts
Lack of tailored plan if you need a more personalized solution
Can't upgrade if your business grows and needs more features
Pros:
Completely free of charge
Chatbox customization
Both Android and iOS apps
File sharing
Proactive chat
Analytics
No credit card required
#4 Userlike
Userlike offers real-time support for all kinds of businesses. Let's check what features Userlike provides, as well as what the pros and cons are.
Aside from a free option, Userlike offers four paid plans: Team for €90 per month, Corporate for €290 per month, Flex (no price given).
Cons:
There is no mobile app - agents cannot manage messages via mobiles
The paid plans are quite expensive
Agents can't reply to users once they close the chat window
Pros
Integration with Facebook Messenger, WhatsApp and more platforms
Analytics
Video calls
White labels
Screen sharing
Feedback option - visitors can score the service via star ratings, surveys, and optional comments
Conversation tagging with topics
#5 Zoho SalesIQ
It is a free live chat support software with chat options for all kinds of businesses.
It offers one free plan and three paid ones: a Basic plan for €10 per month, Professional for €12.75 per month, and Enterprise for €25 per month.
Cons:
There is no multi-channel feature
Integration could be better
Pros:
Agents can type with their voice
You can get daily reports
Integrations with Facebook Messenger, Telegram, and Whatsapp Business
You can see detailed information about visitors
Canned messages
Screen sharing available
Real-time monitoring of new employees
A mobile app for both Android and iOS
Conclusion
Having a live chat can be very beneficial, but at some point you'll need more than just the basic features. It's good to choose an app that is easy to upgrade and provides the best possible solutions for your business growth.
Free apps are great for those who want to start their journey with live chats. If you are wondering which live chat platform to pick, Smartsupp would be an ideal choice. It is a complete customer service platform with all the necessary features and more to improve satisfaction rates. It is perfect for starting out and has more powerful features available for those who need more. Sign up for a free trial period and check it out for yourself.
Live Chat Apps FAQ
How to pick the best chat widget for proactive customer engagement?
Choosing the best chat widget for proactive customer engagement is an important decision. First, you should consider the features offered by each chat widget and pick one that includes additional tools to optimize customer engagement. Look for live chat apps that offer automated responses, allow customers to rate their experience, and provide analytics to track performance. You should also make sure the widget integrates with your existing platforms, such as website or email, and is mobile-friendly. You should also look for live chat software with customizable options so you can tailor it to suit the needs of your business.
What are best practices to support tickets via proactive chat?
To support requests via proactive chat, the best practices include greeting customers warmly, letting them know their issue is being addressed, staying organized by keeping records of chats and conversations, as well as having a back-up plan in case of technical difficulties. Remain polite and professional even in difficult situations, provide accurate information about the product or service in question, and apologize for any inconvenience caused to your website visitors. Make sure all customer concerns are addressed promptly and follow up with customers on their customer requests to ensure satisfaction.
Are mobile live chat apps worth trying?
Mobile live chat apps are definitely worth considering if you want to provide a more convenient and accessible way for customers to contact your business. With a live chat app, website visitors have the ability to communicate with you directly from their phones, giving them the freedom of mobility and convenience. Best live chat apps often offer features such as automated responses, analytics, customer ratings, and customization options—all designed to help you optimize customer interactions and create a better overall experience.
What is better: voice or video call for great customer service?
Deciding between voice or video calls for great customer service depends on your specific needs and the preferences of your customers. Voice calls can be a faster, more efficient way to quickly resolve customer queries, but video calls are becoming increasingly popular due to their ability to build trust and create a stronger connection with the customer. Video calls also enable customers to describe their issues with greater accuracy and clarity, allowing you to provide more detailed solutions. Ultimately, both voice and video calls have various advantages and disadvantages, so it is important to consider both before making a decision.
How to boost customer satisfaction ratings with a live chat platform?
Boosting customer ratings with a live chat app begins with having a well-designed, user-friendly interface and providing fast response times to customers. You should strive to offer personalized service that is tailored to each individual customer's needs, as this will make them feel valued and appreciated. Regularly engaging with customers by asking questions, offering discounts or promotions, and using automated responses for chat messages can help keep them engaged and create a great experience. Ensure your platform has features such as analytics and customizable options so you can track customer engagement and tailor the experience accordingly.
How to collect customer feedback via live chat solutions?
Collecting customer feedback via live chat software is an effective way to gain valuable insight into customer satisfaction. Start by promoting the use of your live chat feature through social media, email campaigns, and other channels.
Once customers are using your live chat feature, you can ask them for feedback on a regular basis by providing questions or surveys after each conversation. Customer conversations with your agents should also be monitored and recorded for analysis.
This will allow you to learn which agents are providing the best customer service and where improvements may be needed. Finally, consider offering incentives or rewards to customers who provide feedback so that they continue to do so in the future.
Can you receive support tickets via live chat widgets?
Yes, it is possible to receive support tickets via a live chat app! Live chat widgets provide a quick and easy way for customers to get in contact with your company, submit queries or start conversations.
Through the live chat widget, customers can easily send tickets with specific details about their issue and requests for help. You can use live chat software to send automated messages that encourage customers to send in their feedback or requests, as well as providing links to commonly-asked questions and other helpful resources.
What makes live chat software the best choice for your business?
Live chat software is the best choice for your business because it provides instant customer support and allows you to quickly respond to queries and requests. With live chat, website visitors can instantly connect with a representative of your company and get the answers they need in a timely manner.
Customers appreciate being able to communicate through messaging rather than having to wait for a phone call or email reply. Live chat solutions also offer an archive of past chats (and chat transcripts) so that you can easily keep track of conversations and assist customers more efficiently in the future.
How helpful are chat transcripts from live chat support software?
Chat transcripts from live chat support software are very helpful in providing an accurate record of customer interactions. They can be used to quickly find and review past chats, analyze customer communication patterns, identify specific areas where your customer service could be improved, and much more.
Using transcripts allows you to quickly respond to customers with the correct information or answer to their inquiries, saving time and enhancing the overall customer experience.
Are free live chat apps way to go?
Free live chat apps are a great option for businesses looking to get started with customer service via live chat without having to invest in additional software.
However, completely free live chat software usually comes with limited features (no chat routing chat conversation history, video calling, no options to create canned responses or store contact details), and may not be as reliable as paid options.
Furthermore, free apps often lack the storage capabilities of paid solutions and may not be able to store transcripts for future reference. Ultimately, it is important to consider what kind of features your business needs before deciding which live chat solution is best for you.
Can Facebook Messenger replace a live chat app?
While Facebook Messenger can be used to provide customer support and help customers, it cannot replace a dedicated live chat app. Live chat apps are designed specifically for customer service and provide tools such as transcripts, canned responses, analytics, and more.
On the other hand, Facebook Messenger is not tailored towards customer service and offers fewer features that may not be useful for businesses looking for an effective live chat solution. Therefore, if you're looking for a reliable way to provide best customer support via live chat, an app specifically designed for this purpose is the way to go – Facebook Messenger can't help you, but Facebook Messenger itself won't replace a live chat app for your needs.
What are challenges of using live chat software?
One of the biggest challenges of using live chat software is managing customer responses in a timely manner. Many customers expect prompt responses when using live chat, so having a system that can quickly answer queries and resolve issues is essential.
Not all customers may be familiar with or accustomed to using live chat software, leading to confusion in communication or incorrect usage.
Keeping up with customer inquiries can also be difficult if you do not have a dedicated team to respond to messages. Finally, security is an important consideration – without taking proper precautions, sensitive customer data within chat history can be exposed and vulnerable to third-party access.
What are the best live chat apps in 2024?
In 2024, Smartsupp is widely considered one of the best live chat apps for customer service. It offers an extensive range of features such as customizable canned responses, automatic transcripts, chat routing, and analytics reporting. Additionally, its user-friendly interface makes it easy to use for businesses of all sizes and levels of technical knowledge.
Smartsupp supports multiple languages, offers chat reports, chat analytics, and chat history, allows support teams to manage conversations across multiple social media platforms, and enables businesses to deliver spotless customer experience.
Smartsupp also provides excellent customer support and security, making it a great choice for those looking for a reliable live chat app for their business.
Can the best live chat software replace all your agents?
While the best live chat software can streamline some aspects of customer service and help to reduce agent workload, it cannot replace all your agents.
Automated messaging and canned responses are only helpful for certain types of inquiries and conversations, and nothing can replace the personal touch and understanding that a human agent can provide for more complex issues or inquiries. Not all customers may be comfortable engaging with an automated chatbot system, so having a business team of qualified agents is still essential.
How to increase customer satisfaction with live chat feature?
To increase customer satisfaction with a live chat feature, you should strive to provide excellent customer service. Respond quickly and accurately to inquiries, offer helpful advice and proactive solutions, and make sure the user experience is easy and intuitive.
Additionally, you could also personalize the chat interface by offering customers the option of customizing their avatar or profile picture, as well as allowing them to add special requests or comments that can be used for follow up conversations. Providing ways for customers to rate their satisfaction with your service will help you determine what areas need improvement in order to ensure an exceptional CX.
How can be businesses proactively engaging customers?
Businesses can proactively engage customers through various methods, such as offering personalized discounts and promotions, sending out regular newsletters or emails with helpful content, and running customer loyalty programs.
Businesses can also use social media to reach out to customers directly and build relationships by asking questions or holding competitions. And businesses can also set up automated chatbots on their websites to answer inquiries or direct customers to the appropriate department for further assistance.
How to collect user information via live chat software?
Collecting user information via live chat software is relatively easy and straightforward. First, create a form that customers can fill out when they open a chat window.
This should include fields such as name, email address, phone number, and any other required information. Then, use the appropriate software to have the customer's responses stored in the database for future reference.
You can also set up triggers that will automatically send messages to customers once certain criteria are met. Lastly, make sure your live chat app software provides you with access to analytics so that you can track customer interactions and monitor usage patterns to provide better services in the future.
How can support teams use a live chat window?
Support representatives can use a live chat widget to provide customer assistance in a timely and efficient manner. Live chat is an ideal platform for customer interaction as it allows support agents to respond quickly and address any inquiries or issues customers might have.
Support reps can also use live chat tools to answer customer questions, provide product information and troubleshooting advice via proactive chat and chat routing, as well as handle requests related to orders, payments, or refunds.
Furthermore, using a live chat widget also helps build better relationships with customers as it allows timely feedback on their queries and provides a more personalized experience.
How to run engaging chat conversations?
Running engaging chat conversations requires a combination of strategy, creativity, and customer service. Start by greeting customers with a friendly welcome message and engaging them in conversation by asking relevant questions or making meaningful comments about their inquiries.
It's also important to use a positive tone to show customers that you are committed to resolving their issues or helping them find the information they need. Make sure to provide clear instructions and detailed explanations if needed, and respond promptly with accurate information.
Finally, take the time to thank your customers for contacting you and expressing gratitude for them taking the time out of their day to chat with you.
What are the best chat messages you can send to clients?
When sending chat messages to clients via support channels, it's best to be friendly and courteous, as well as provide helpful and relevant information. Start off by expressing your appreciation for their inquiry and make sure to include clear instructions on how you can help them. As the conversation progresses, thank them for their patience and provide timely feedback if needed. Don't forget to end the chat by wishing them a great day or thanking them for their time.
What are main drawbacks of free live chat apps?
The main drawbacks of free live chat app include limited features, lack of customization options, and limited scalability.
Most free chat apps have limited features such as no support for multimedia messages or automated responses, meaning that all replies must be manual. Top it up with lack of unlimited chats, low chat volume, no chat transfer, disappearing chat history, buggy mobile apps, no integrations with knowledge base solutions or other marketing tools…
The lack of customization options means that the user interface is often generic and not personalized to your business's particular needs.Most free live chat apps are not easily scalable, often limiting the number of customers who can be serviced at once.
How to ensure the best live chat support?
To ensure the best live chat support, it's important to have a well-trained and knowledgeable team of agents who can provide quick and accurate responses. Agents should be familiar with your business's product or service, as well as the customer's inquiry. The live chat app you use should be secure, reliable, and up to date with all security protocols.
Have an efficient live chat app system in place for keeping track of customer inquiries and responses to ensure that customers don't experience long wait times.
Can direct messages replace ticketing system?
This kind of messages can partially replace ticketing systems as they allow customers to contact customer service agents in real-time. However, ticketing systems within best live chat software can provide a more structured approach to customer inquiries that allows agents to quickly process and respond to a large number of queries at once.
As such, while direct messaging can be used as an additional resource for customer service, it likely won't be able to fully replace a ticketing system – same as Facebook Messenger.
Should your support team have access to chat history?
Yes, it is important that your support team have access to chat history within your knowledge base for two main reasons: first, it will allow the team to quickly access past conversations with customers and reference helpful information (including chat routing, group messaging); second, it can provide context for current conversations.
Having access to chat history can help you identify trending issues or concerns among customers that may need to be addressed.
What is Apple Business Chat?
Apple Business Chat is a messaging platform designed to help businesses interact with customers through Messages. It allows customers to initiate conversations with businesses directly from the Messages app and have conversations that are secure, natural, and personalized. Businesses can use Apple Business Chat to provide customer support, book appointments, and generate sales.
How can Google Analytics help in customer support?
Google Analytics can be a powerful tool for improving customer support. By integrating Google Analytics with your website or app, you can gain valuable insights into customer behavior, chat analytics, and how they find and use your customer service resources.
This data can then be used to make informed decisions about how to improve customer support, such as which channels are most effective, what type of content is driving traffic to your customer service page, and which features (e.g. chat routing, desk software, knowledge base) are being used most frequently by customers.