Table of contents
Genuinely connect with your visitors
From our reviews
When we were preparing this article, we looked online to find out how many people have already written on this topic. We were surprised at how many articles about chatbots were aimed at programmers, when chatbots are now such a widespread and accessible technology that you don't need to know programming at all to use them. All you need is a little common sense and creativity. The programming part we have already done for you. Now you can build a chatbot with just a few clicks.
Today we'll introduce you to the simplest form of chatbot using our Chatbot garage. You can find it in your Smartsupp dashboard. It replaces and improves on the former automatic messaging section. Anyone who has been using Smartsupp for a long time will remember our preset automatic messages, which covered three basic situations:
Welcoming a new visitor.
Welcoming a returning visitor.
You are busy, but you will address the query ASAP.
We added some extra preset messages to the Chatbot garage, which will save you time spent manually addressing each customer. We covered the most common situations in which e-shops use automation. Here they are:
Help with completing the order
It often happens that a customer puts the product in the basket, but for some reason he does not get to the order completion. Your profit is gone and you don't even know why. Now imagine that some of these abandoned baskets could be saved by a simple automation. Thanks to the Chatbot garage, you can activate a message that will offer help to a customer who has already spent some time on the shopping cart page. Try a simple:
"Do you need help completing your order? Do not hesitate to ask."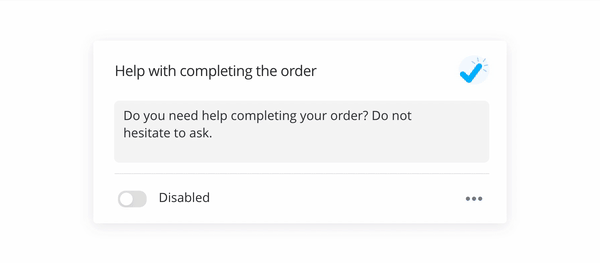 Special offer for selected products
Discounts, promotions, special offers! Billboards, newsletters and highlighted sections on the web. Let's face it, not using live chat would be a wasted opportunity.
Just a minute in the settings and every customer who looks at let's say mountain bikes on your website, will learn that:
"For each bike over 400€, you will receive an original water bottle worth 15€  free of charge. Can I help you with your selection?"
Help with choosing goods
When we shop, we often compare different products of the same type to make sure we have chosen the best. Choosing the one of a hundred washing machines can easily take up to five hours. Here, the assistants in the brick-and-mortar stores can offer their expert insight and save the customer time and energy. Online stores are at a disadvantage. Or are they? With Chatbot garage, you can reach out to a customer on the web just as easily as offering help to someone scratching their head standing over washing machines in the shop. You can't go wrong by setting a chatbot to ask them:
"Do you need advice on which product to choose? Tell me what your needs are, I'll be happy to advise you. "
Discount on next purchase
Many e-shops lure their customers back using discounts on further purchases. Some will send you an email, others will let you draw a price. And if they use Smartsupp, you might see a pop up message after your purchase saying:
"Thank you! On the next visit, use the 5€ discount for your purchase. Add the discount code "loyaltydiscount5" to your order. "
Custom bot
You can activate all the above messages with one click in our Chatbot garage and they will be sent to customers automatically according to pre-set rules whenever you are online. However, you may have an idea for another message that might engage your visitors and make them buy. No problem. Take the opportunity to create your own chatbot. You can, for example, send customers a satisfaction survey, or ask what kind of product they lack on your website, there are no limits to creativity. Just think about the conditions under which the message should be sent and what to write in it. Detailed instructions for launching and creating chatbots can be found in our Help section.
How do you know the bot serves its purpose?
When you decide to use the automatic messages or you spend the time creating your own bot, surely you want to know if the bot is really performing. We had the same idea! That is why our Chatbot garage offers you simple reporting. You can see how each bot was doing in the last month, namely, how many times it was activated and how many visitors reacted to its message. Thanks to that you know which bots need improvement - try changing the text of the message or the conditions that activate it and see how the numbers change.
Still confused? Contact us via the chat box in your dashboard and we'll be happy to get in touch with you. Please note that customer service is included only in paid packages.