Looking for some alternatives to Freshdesk? Look no further and read our comparison of Freshdesk alternatives. We've listed features and solutions you should keep an eye on.
Table of contents
Genuinely connect with your visitors
From our reviews
A burgeoning business needs a reliable tool for supporting its customers. Unquestionably, without happy customers, there's no success. That's why you should choose your software for customer service carefully.
Maybe you've heard about Freshdesk. It is one of the options available on the market that might help you to connect with your customers. But is it the best? It's hard to say for sure. And that's why we've taken a closer look at this software and put together a list of the best Freshdesk alternatives.
So, when considering Freshdesk, be sure to know all of your options.
Here are a few basics to get you started!
What is Freshdesk?
Freshdesk is a software solution that helps manage customer support tickets, feedback and queries via a live chat and a chatbot. It's also called Freshchat. The platform is supposed to enhance customer service management. But does it really? Let's see.
Why should your business use Freshdesk? Best features and benefits
A ticketing system converts customer issues into tickets. Freshdesk allows you to assign help desk tickets to a person who is a specialist in a particular field.
You can buy extra bot sessions. However, the bot feature is available only in the highest plan, so only enterprise-level companies can use them.
Customer service agents see the messages in one inbox. Emails, chat, social media, and web messages are directed to the omnichannel.
You can monitor your customer service team and agent performance. You get reports on trends, agents' productivity, team effectiveness and how they handle customer interactions.
Add-ons are available for purchase. Freshdesk offers additional bot sessions and field service management. However, they're not available for all. You buy them only when subscribing to the Growth, Pro, and Enterprise plan.
There's a free trial. You have 21 days to try Freshdesk out. Usually, there're 14 days to try a tool out, so having additional extra days is an advantage.
Freshdesk omnichannel allows you to view messages from different sources. It's one of the ways to speed up work and make customer conversations a simpler process.
Freshdesk pricing plans
The pricing starts with a free package with very limited features. Also, there are three paid options:
Growth at $15/agent/month
Pro at $59/agent/month
Enterprise at $79/agent/month
Freshdesk shortcomings
⛔ It might be an expensive solution when adding more seats.
⛔ A refund policy when switching away could be better.
⛔ Low integration with WooCommerce and WordPress.
⛔ Response time from a customer support team could be improved.
Is Freshdesk the best choice?
In our opinion, there are better options than Freshdesk. The software has its limitations and some features are only available to high package subscribers.
You might find this checklist helpful if you're unsure what to pay attention to while choosing a customer service platform.
Feature checklist
Make sure that the software of your choice is equipped with:
✔️ proactive messages
✔️ deep integrations
✔️ customer feedback options
✔️ AI-powered answer bots
✔️ workflow automation tools
✔️ intuitive user interface
✔️ knowledge base articles
✔️ analysis and statistics of a team performance
✔️ tools for monitoring customer journey
✔️ asset management tools
Having these features is crucial if you want to deliver excellent support, increase customer happiness, and have meaningful customer conversations. Also, a solid set of features simplify business processes and makes it possible to provide exceptional customer experience.
Alternatives to Freshdesk
Here's s list of the best Freshdesk competitors. We've discussed their key features, cons, and pricing.
#1 Smartsupp
Smartsupp is a customer service platform that makes it easy to communicate with website visitors using a real-time chat and a chatbot.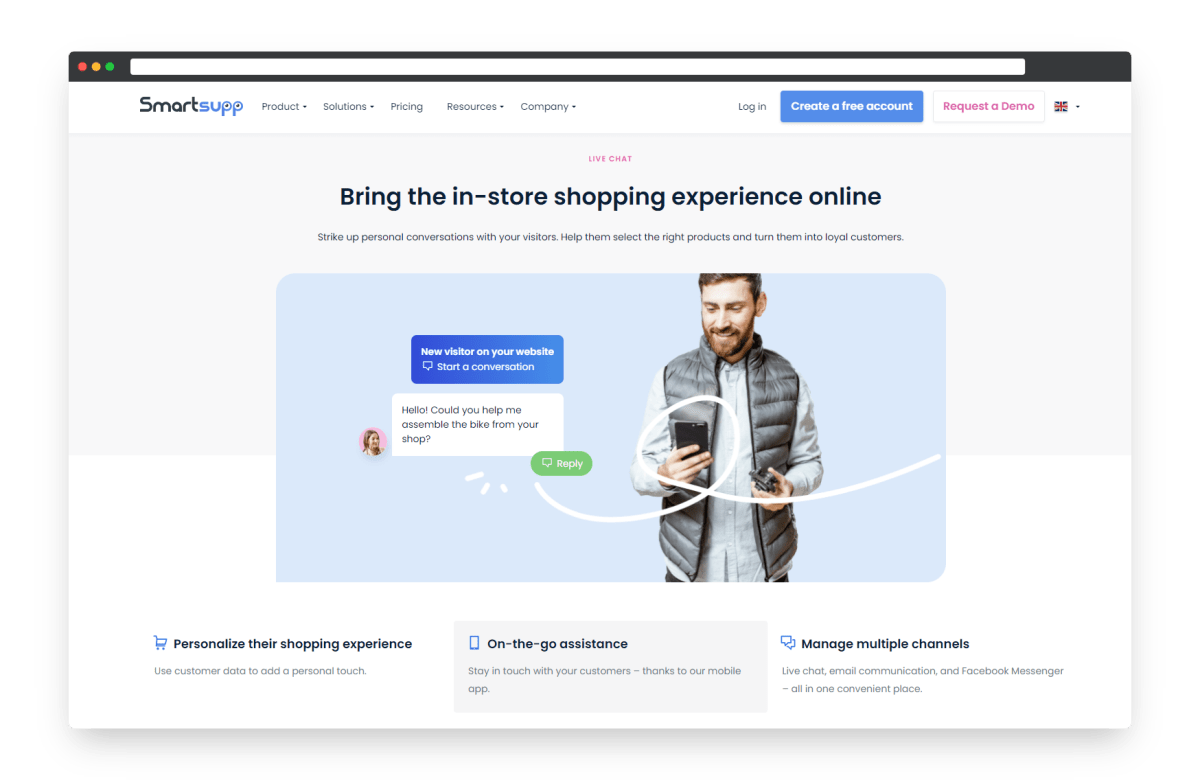 Take a look at what Smartsupp can do for your business.
Why should your business use Smartsupp? Best features and benefits
This unified platform has many advantages! But we've gathered the essential ones.
Chatbots and live chats save you time. Having those two tools is a game-changer. Using live chat, you can assist your customers in real-time and build a connection with them instantly, providing personalized service. Meanwhile, a chatbot helps with task automation, such as recommending products or answering frequently asked questions. So it saves you time and money.
You get all messages in one inbox. Thanks to a unified inbox, you get an overview of the messages and customer queries and get multi-channel support. Additionally, the interface is easy to use.
The analytics of agents' and teams' performance help make data-driven decisions. It gives you an idea of how your customer service department is handling things. What's more, you can see the statistics of an agent productivity and team with just a few clicks.
You provide a better customer support experience with video recordings. It is one of a core features of Smartsupp that allows you to see the behavior of your customers and visitors and how they're interacting with the website. Video recordings make it much easier to catch any issues and fix them quickly.
Automatic messages let you attract new customers. With this standout feature, you can reach the visitors and let them know you're ready to help anytime. Smartsupp enables you to send automated messages under conditions you set. For example, after a minute of users' inactivity.
There's seamless integration with other tools. With Smartsupp, you can still use your favorite software, like CRM systems or ecommerce customer support platforms. It's also possible to integrate tools such as Google Analytics, which can help you monitor key metrics for your business. Check out the complete list of Smartsupp integrations.
Thanks to the integrated tools and the chatbot capability, you get repetitive tasks done. With Smartsupp, customers can get immediate answers regarding the status order when using Shoptet. This way, you support shoppers during the entire customer journey.
It has a free plan. If you need basic plans for a chat solution, Smartsupp is worth a shot.
💡 Smartsupp customer service team is always happy to help. There're also many useful self-help articles.
Smartsupp pricing plans
No matter the size of your business, you will find something suitable. There are four packages:
Free at €0, Standard at €15/month with one agent
PRO at €72/month with three agents
Ultimate at €2000/year with a custom limit of agents
Smartsupp offers a 14-day free trial, so don't hesitate to sign up and try it out.
Smartsupp shortcomings
⛔ It lacks AI support.
Is Smartsupp the best alternative to Freshdesk?
In our opinion, YES! It is a powerful tool that goes beyond Freshdesk, and for sure, it's one of the best alternatives. Thanks to many useful features, you assist your customers with ease, build a connection with them, and increase conversion rates.
Intercom is another alternative solution to Freshdesk. It is customer service software that helps business units communicate with customers and website users via live chats and chatbots.
Why should your business use Intercom? Main features and benefits
Intercom provides a chatbot solution.
A UI is intuitive and easy to use.
There're integrations with third-party tools.
Intercom shortcomings
⛔ It's difficult to estimate the price.
⛔ There could be some improvement in customer engagement and satisfaction data analysis.
⛔ Some users report that the notification system may not function properly and is missing incoming chats and real-time notifications.
Intercom pricing plans
Intercom does not provide a price. The cost is based on how many agents there are and the number of individual users who have received at least one outbound message from you in the last 30 days.
Pricing is impossible to estimate without speaking with the sales team.
Is Intercom the best alternative to Freshdesk?
We have some doubts about that. A few Intercom drawbacks might be discouraging, for example, the notification system.
With LiveChat, businesses are able to communicate with their customers in real-time, create knowledge bases, and improve ticket management.
Why should your business use LiveChat? Main features and benefits
The software provides omnichannel messaging.
A chatbot automates some repetitive tasks.
A chat widget is customizable.
There's an online app.
Live Chat pricing plans
Packages for a live chat solution:
Starter at $24/month/agent
Team at $49/month/agent
Business at $69/month/agent
Enterprise plan with an annual contract and individual pricing
Packages for a chatbot solution:
Starter at $65/month
Team at $169/month
Business at $499/month
Enterprise plan with an annual contract and individual pricing
LiveChat shortcomings
⛔ There is no free trial available.
⛔ Mobile app interface is not very user-friendly.
⛔ Users report problems with sending files via chat.
⛔ To use a chatbot, you need to buy another package.
⛔ Using both a chatbot and a live chat tool might be expensive.
Is LiveChat the best alternative to Freshdesk?
LiveChat has some cons. For example, a lack of a free plan might be a bit puzzling for some. When you don't know how a tool works, it's risky to invest money in it, isn't it? Especially when the prices are that high.
#4 Zoho Desk
Zoho Desk is seen as affordable help desk software that assists with customer service tasks.
Why should your business use Zoho Desk? Main features and benefits
There's AI (Artificial Intelligence) support, but only for enterprise customers.
Zoho help desk software solution is GDPR compliant.
They have detailed reporting.
You can integrate Zoho Desk with other tools.
Zoho Desk shortcomings
⛔ Admin panel might be a bit user-friendly.
⛔ A live chat feature is available for Enterprise plan subscribers.
⛔ You can see the messages from social media channels but only from Facebook and Twitter.
⛔ It lacks a free plan.
⛔ There's no chatbot solution.
⛔ There are minimal workflow options (5 workflow rules in the Standard plan).
Check out 10 benefits of using a support bot for online businesses to learn why implementing a chatbot is a good idea.
Zoho Desk pricing plans
Standard at €20/month/agent
Professional at €35/month/agent
Enterprise at €50/month/agent
Is Zoho Desk the best alternative to Freshdesk?
Zoho Desk is one of many competitors to Freshdesk. However, it does not hold up to the best - it's rather an average help desk software. It lacks key features like a chatbot and could have more extended automation options. In addition, a live chat feature is available only in the highest plan.
#5 Zendesk Chat (formerly Zopim)
With Zendesk Chat, you can get in touch with users across various channels. It is a customer support software that lets your teams provide a better customer experience.
Why should your business use Zendesk Chat? Main features and benefits
Many integrations are available.
There're automated answers thanks to AI support (but limited, only 50 answers in Suite Team)
You can improve your workflow with a chatbot.
Zendesk Chat pricing plans
Plans for everyone:
Suite Team at $49/agent/month
Suite Growth at $79/agent/month
Suite Professional at $99/agent/month
Packages for enterprises:
Suite Enterprise at $150/agent/month
a custom enterprise plan starting from $215/agent/month
Zendesk Chat shortcomings
⛔ Expensive pricing plans.
⛔ Users report that the customer support team is not responsive.
⛔ You need to fill in a contact form and leave many personal details to talk to a customer service representative.
⛔ There's no free plan available.
Is Zendesk Chat the best alternative to Freshdesk?
Another popular alternative is Zendesk, but it's not always the best choice. Undoubtedly, it has more helpful features than Freshdesk, but it still has some significant downsides.
#6 ProProfs
If you want to provide quality customer service, ProProfs is one of the alternatives you may want to consider. It is an online service platform that includes a live chat and a help desk for businesses and individuals.
Why should your business use ProProfs Chat? Main features and benefits
All packages include canned responses.
They offer real-time visitor tracking.
Sending files is possible.
ProProfs provides a chatbot solution.
Agent routing is provided but not in all plans.
You can create a knowledge base for customers with ProProfs.
ProProfs pricing plans
Essential at $15/month/agent
Premium at $20/month/agent
Enterprise (you need to contact sales reps to know the price)
ProProfs shortcomings
⛔ If you want to have both a live chat and a help desk, you need to buy two packages. There is a separate package for a live chat and a separate one for a help desk.
⛔ There're barely any integrations in the Essential plan.
⛔ It lacks AI support.
⛔ A free plan is not available with ProProfs.
Is ProProfsChat the best alternative to Freshdesk?
It might seem quite an affordable tool. But, compared to other alternatives, PrProfs is rather standard helpdesk and does not provide that many features. Spending more money and getting more functionality might be a better option for you.
Smartsupp is an excellent alternative to Freshdesk
Taking all the possibilities into account, Smartsupp is one of the strongest players in the game. If you haven't decided yet what customer portal to choose, it might be an excellent, complete solution for online businesses and individuals.
No time to waste! Sign up for a free trial to build unique connections with your customers and improve customer satisfaction!