Discover alternative chatbot solutions to Pipedrive and maximize lead generation. Engage potential customers whenever you need to using a chatbot. Learn more about these powerful tools today!
Table of contents
Genuinely connect with your visitors
From our reviews
Are you looking for a real leadbooster? So you've probably come across the Pipedrive chatbot in your quest, but the question is: Does it actually deliver what it promises? 
We're here to spill the beans on some powerful Pipedrive chatbot alternatives that will take your sales potential to new heights.
What is Pipedrive Chatbot?
Pipedrive offers a comprehensive CRM platform, and the chatbot is one of the offered tools for capturing qualify leads. Let's find out its best features for sales and marketing. 
Chatbot lets you set up playbooks in a website chat box, gather lead information, and generate a lead, deal, or contact.
Benefits of Pipedrive Chat bot
✅ Capturing leads 
If you're looking for a lead capturing tool, maybe Pipedrive is the one to choose. You can send an automatic message to the customer on your website and get a notification whenever website visitors reach out for help or a question. Then, you can switch to use a live chat and arrange a call with your customers.
✅ Integrations 
Thanks to native integrations like Facebook Messenger or Trello, you can connect your chatbot with various platforms, potentially simplifying lead generation processes. However, it does not integrate with Google Analytics. 
Also, add-ons make the Pipedrive a bit pricey. Getting your visitors, insights are charged extra.
And it's the reason you should consider other chatbot software as well. But it's not the only issue. Check out the other reasons.
Why should you look for alternatives to Pipedrive Chatbot
#1 Inflexible customization
If you're all about customization, Pipedrive Chatbot may not work for you. There are only basic customization options. Some platforms offer more flexibility and specialized features that might match your industry or specific needs. So, keep exploring to find the perfect software for your business.
#2 Cost considerations
Pipedrive Chatbot, like any SaaS solution, comes with a price tag. Depending on your resources, you may find it more cost-effective to seek alternatives offering a better deal, particularly if you use only some of its features. Otherwise, it would be a waste of potential, wouldn't it?
#3 Integration challenges
Make sure that Pipedrive integrates with your CRM, existing software stack or business applications. Because when it doesn't, it may cause operational hiccups. The right integration capabilities may boost productivity and streamline workflows, so check if the alternatives provide them.
#4 Customer support
If you're experiencing poor customer service from Pipedrive (many users report that) or you wish for more hands-on assistance, look for alternatives with an excellent customer support workforce. It's particularly useful when you have already begun using the tool.
Generate more leads: features of lead generation chatbots
Choose a chatbot that has them all. 💪🏻
Mobile app  
Optimize the sales process and the effort of a sales team with a mobile app. Then, you'll be able to use the chatbot system wherever you want. 
Shortcuts
Answer questions about the product or service using a template in a blink of an eye. If you want to support your clients with live chat as well, sales reps will enjoy pre-written responses. And remember - the faster you respond, the better.
Efficient chat box
A reliable chat box is intuitive to potential customers and doesn't scare them off. You don't want your website visitors to resign from a great customer service experience only because they don't know what to click, right? 
Besides, we all know that looking for information in a knowledge base is not the most entertaining task, especially when they may ask a great sales specialist.
📰 Read more about conversational chatbots if you want to maximize sales even more!
Pipedrive Chatbot alternatives
#1 Smartsupp – customize your chatbot with this perfect alternative
Looking for alternatives to the Pipedrive chatbot? Try Smartsupp! It's a reliable, robust tool that will maximize your sales conversion rate and help you with mastering conversational sales.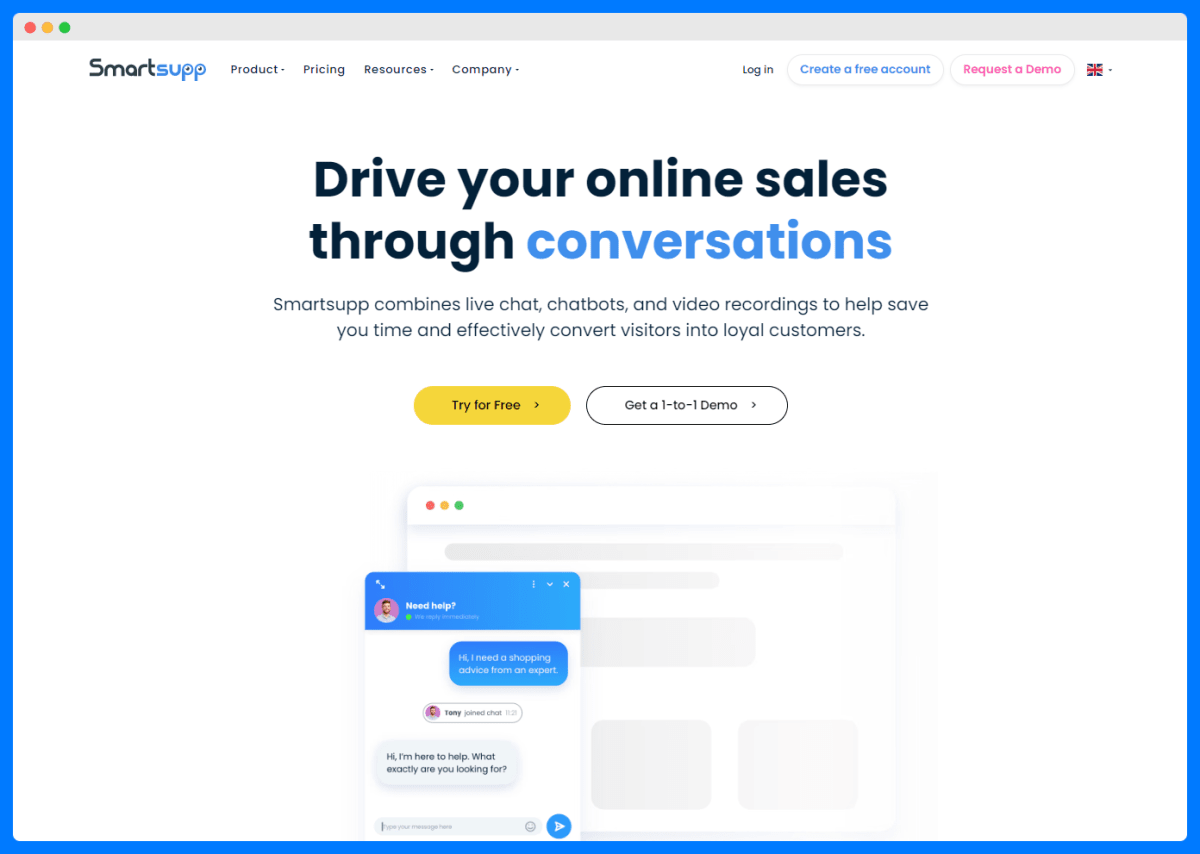 How? Thanks to:
🧰 Smartsupp capabilities – enhance sales with live chat, chatbot, and video recordings. Get real-time customer support, build relationships, provide excellent service, and gather feedback effortlessly. Also, many integrations make the tool a real multitasker.
💵 Various plans – Smartsupp offers something for every company, regardless of size or budget. Choose from a free plan or tailored packages to find the perfect fit. Check outSmartsupp's pricing details for the best deal.
🖥️ Simple User Interface – simplicity is key here. The user interface is easy to navigate, and setup takes just minutes. And if you have any questions, their lightning-fast customer support is always there to help.
And one more thing - you can customize your chatbot as you like! Check out Smartsupp improved chat box.
Tidio is customer service software that lets companies and support teams chat with customers in real-time through different channels. Thanks to its features and integrations, it keeps users connected during the customer journey.
Tidio has chatbots and live chat options, which can be handy. They also throw in a few extras like email inbox and Instagram integration. There are some downsides, though.
Tidio's free plan limits you to just 50 live chat conversations, which might not be enough if your business is growing. Paid plans offer more, but they can be pricey. And watch out for the Communicator plan, where you're charged per agent and have a limit of only 5 agents.
Oh, and their free trial is just 7 days, which is shorter than most alternatives. Tidio's pricing plans have different features, but they might not cover all your needs.
Drift Chat may catch your eye, but it's got some flaws. Be aware that the advanced AI-powered chatbots are only available in their pricey Enterprise plan. Also, Drift's lack of transparency with pricing and limited integrations can be frustrating, especially for small businesses.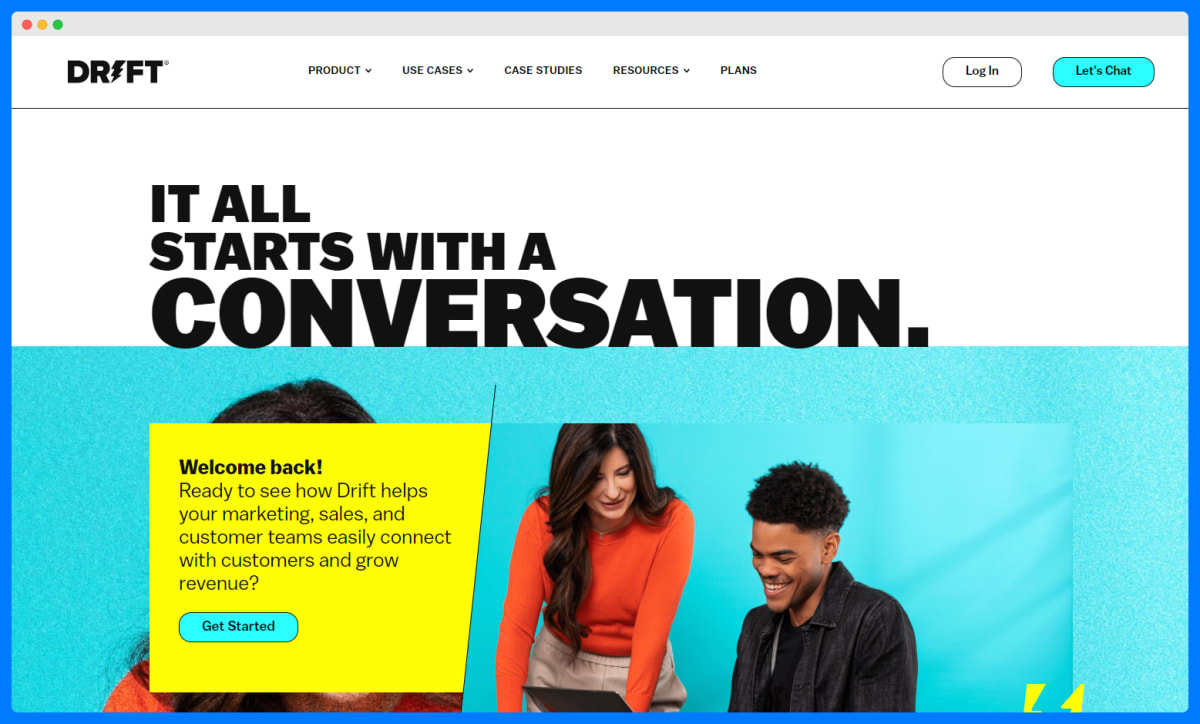 Users are disappointed with the price, system integrations, and missing features like Target Account Management. While Drift does offer a Startup Program, it comes with limited capacities. Think twice before committing to Drift.
You can handle customer issues with Olark's live chat, but beware of limitations. They claim to have a CoPilot chatbot, but the details and price remain a mystery. Customization options let you tweak the chat box to match your website. 
Unlimited chat history sounds promising for monitoring service quality. But prepare your wallet for pricey power-ups like removing the Olark label or enhanced visitor insights.
Olark might seem affordable, but as your team grows, costs can skyrocket. Remember, there are only two pricing plans, no app for staying connected on the go, and the chatbot solution is exclusive to the Pro plan. Double-check before investing your money (and energy).
With a ticketing system, Freshdesk converts customer issues into tickets that you can assign to specialized agents. However, the bot feature is exclusive to the highest plan, limiting its accessibility to enterprise-level companies.
Track your team's performance and handle customer interactions with reports on productivity and effectiveness. Add-ons like bot sessions and field service management are available, but only for specific plans.
They offer a 21-day free trial, giving extra time for evaluation.
While Freshdesk's omnichannel view speeds up work, the software's limitations and restricted features for lower-tier plans make it less appealing. Explore other options to find the perfect customer service platform.
Pipedrive chatbot alternatives: using a chatbot is fun!
Paperdrive offers plenty of features! However, the quantity doesn't always equal quality. Check carefully if you want to use all of the given features in your plan. 
But! For those who are looking for a chat-oriented platform, Smartsupp is the perfect choice for both small, mid-sized, and enterprise businesses.   
Sign up for a free trial and get the most out of the robust set of features, amazing customer support, and excellent customer experience.
Pipedrive Chatbot FAQ
How does Pipedrive chatbot tool boost sales?
Pipedrive chatbot is supposed to enhance sales performance by optimizing your sales playbook and streamlining your pipeline, thanks to extra paid add-ons. The LeadBooster add-on provides the Chatbot, Live Chat, Prospector, and Web Forms features. But you can use Smartsupp live chat for free.
How does Pipedrive chatbot automate tasks?
Pipedrive chatbot automates time-consuming activities within your sales funnel. Replying to the visitors' messages saves you time and enables you to focus on other tasks, such as nurturing leads and closing deals, maximizing your productivity.
What are the top Pipedrive alternatives?
Smartsupp is an excellent chatbot platform that combines the power of chatbot and live chat to engage new leads, and it's one of the Pipedrive alternatives. Create a chatbot conversation flow, and embed it on your website, making your sales process more effective.
What to consider before implementing Pipedrive chatbot?
Before implementing Pipedrive chatbot, take a moment to assess if the chatbot platform you are considering integrates seamlessly with your existing systems and workflows. Compatibility is crucial, so don't forget to evaluate how well the Pipedrive chatbot fits into your overall sales strategy. Also, make sure that the chatbot doesn't glitch by checking reviews.