5 ways to engage your visitors with live chat
Inhaltsverzeichnis
Stellen Sie eine echte Verbindung zu Ihren Besuchern her
Aus unseren Bewertungen
Are you looking for a way to engage your visitors using live chat? Acquiring traffic is costly and takes time so you should not let your potential customers leave without interaction. In a brick and mortar shop, you would naturally approach your customer and offer help. Website visitors (and online shop owners) seldom realize that it is equally easy to have  similar interactions online! The key is to start by ensuring your widget is noticeable.
We prepared 5 tips & tricks that will help you set up Smartsupp in a way that will boost your visitor interactions. We can tell you that the looks play a major role.
1. Choose the right color
Out of sight, out of mind. Choosing the color of your chat box is one of the first steps you need to take when setting up your account. We suggest using contrasting colors for your chat box. It will improve the visibility and boost visitor engagement. Some users choose a color that is in harmony with their brand colors. While this approach will certainly not break the visual of your website, it may be so in line with it that the chat box will be virtually invisible to potential customers. That is why contrast is our choice.
You can change the color of your chat box here.
2. Let customers know you are here for them
In the new version of Smartsupp you can choose what the closed widget will look like. It may be a simple bubble, which is a bit subtle or you can add text, making the chat box bigger and easier to spot. We suggest using the text. You can use it as a call to action, eg. "Chat with us", "Can we help?" or "Let's chat".
Equally important is the message you communicate to visitors when they open the chat box. The three text fields can be edited to your liking and needs. When creating the message, always keep in mind that you want to be accessible and tell visitors you are here for them. And if you happen to be offline, offer to respond later via email. At Smartsupp, we follow this approach so if you feel like it, have a look at our texts for inspiration.
All the texts in the chat box can be edited here.
3. Offer your visitors help via automatic message
Trying to draw visitors' attention, it often pays to go a step further. The color and  text are important aspects, but automated messaging is your trump card. The human brain is programmed to subconsciously react to movement so there is no chance a message appearing above the widget will go unnoticed.
Your customers' instinct to reply comes for many reasons. So all they need is the right encouragement. The text in the message will be the critical component to get them talking. You can use an automated message to greet the visitors, offer help choosing the right product or give them a voucher. Don't forget to use emoticons in your message to make it more lively.
You can read more detailed information about how and when to use automatic messages here, in our Chatbot garage article.
Set up automatic messages in the Chatbot garage.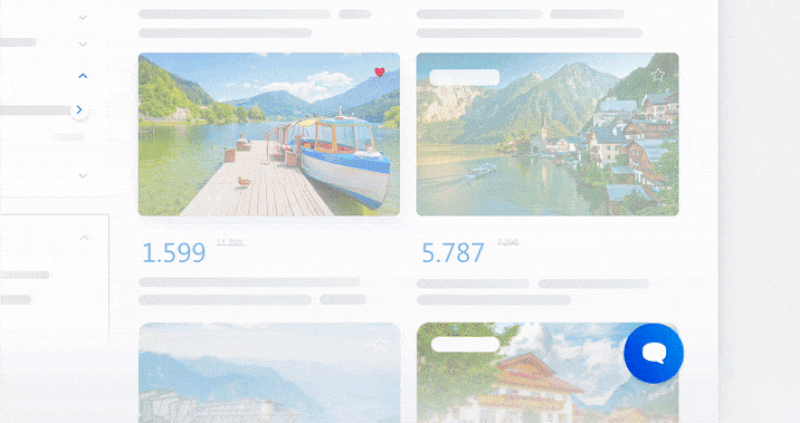 4. Use emojis
Having already invested so much effort into getting visitors' attention, there is still a thing or two you can do to boost engagement.
Emoticons - you may also know them as emojis. You probably use them daily when chatting with friends and family. They've become a natural part of our daily online communication, they stimulate the brain and they are capable of drawing visitors' attention. Plus, there are so many of them that you sure will find one that goes with your brand! Try inserting it into the automatic message and you will see the message seems more pleasant. At Smartsupp, we often use the wave ?. You can try it too.
Smartsupp dashboard does not have an internal emoji library yet (it's on the way) but that does not mean you cannot use emojis in your communication! Just press Windows button + "." (or Ctrl+Cmd+space on Mac) and you'll see the system emoji library. Now choose the one you want to use! Our product master Tom really likes this one.
5. Let the faces do the talking
Humans are social beings and that is what our last suggestion is built on. Use the agent photo in the chat box instead of your logo. We know we prefer talking with human beings to faceless brands - we know we are helping a real person and feel more responsibility for it. Building a relationship becomes easier when you communicate with a specific person representing a brand. Personal approach is the key in customer support! That's why using a photo gives you an advantage right away.
You can upload photos in the agent profile.
Sind Sie noch verwirrt? Kontaktieren Sie uns über die Chat-Box in Ihrem Dashboard und wir helfen Ihnen gerne weiter. Bitte beachten Sie, dass der Kundensupport nur in kostenpflichtigen Paketen enthalten ist.