Live chat: free or paid? How to decide?
Tabla de contenido
Establezca un contacto auténtico con sus visitantes
De nuestras reseñas
To pay or not to pay? That is the question! We'll help you understand just when a paid package might pay off and when it's not necessary. Not every live chat provider will offer you the free live chat option. Why is it so? Many will try to convince you that what is free is not very high in quality. Or that the free version contains only a limited number of features and often crashes. And when you pay nothing for a product, you can't even complain that it doesn't work.
We at Smartsupp see it differently. Our goal was to build a live chat that everyone can use. But not everyone needs a multitude of advanced features. For example, when you only perceive chat as a tool for answering customer questions and nothing more. Or you're not sure if you want to use this tool at all and decide to try it for a longer than 14 day trial. Are you ok with just a simple customization of the chat box? Do you manage to achieve your sales goals without  the help of online tools? In this case, our Free Package may be enough for you.
And by the way, the statements about the free version being of a less quality seem foolish to us. It's still the same product, right? Only with less features.
What can you find in the Smartsupp Free package?
Everything a small business needs to communicate effectively with customers. Simple free live chat forever. It can only be used by one operator, which we believe is really sufficient for a small e-shop. In addition, you can customize it - set your own photo or company logo and name.
When you are not online, live chat will automatically offer the visitor an offline form to fill in their details and message for you. Of course, you can also be online outside the office. Install our mobile app and chat with customers from the tram or from your living room. You receive an audio and visual notification for each new message.
And to make your communication faster, you can set up 3 shortcuts - canned responses that you send with a few clicks. Most often these are common phrases such as greetings or thanks.
This is our free live chat. Basic features and nothing else to distract you. However, if you want to use chat to grow your business, you will also be interested in the paid package.
Who will love the Standard package?
In short, everybody who wants to take their customer communication to the next level. We've already written about why it is worth building quality customer care and increasing customer loyalty here.
The standard package is the most popular among our customers. We designed it to meet the needs of small and medium-sized e-shops. It includes all the features of the unpaid package and many more. Which features are most useful when you want to make profit?
Advanced customization
The first thing is that you can customize your chat more. You can change not only its size and position on the page, but also your own texts and color that fits your brand. This will make the chat box a natural and inseparable part of your site.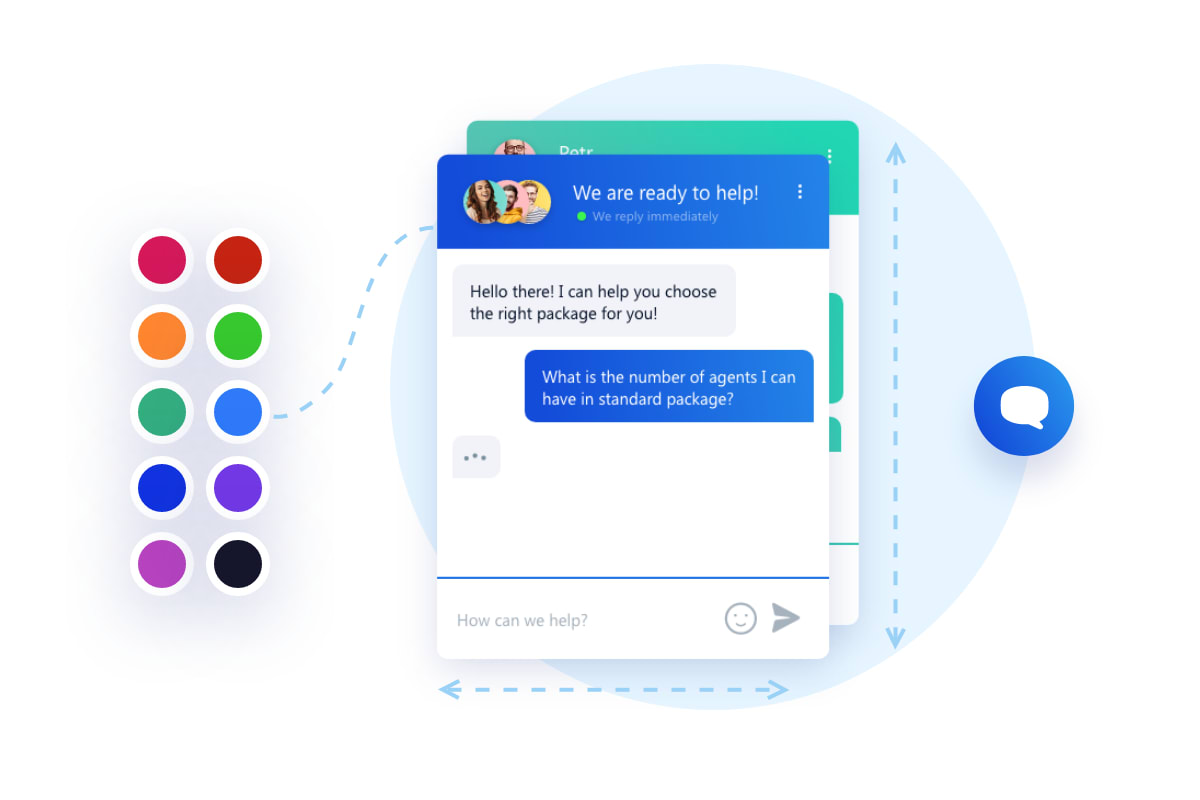 Automatic messages
Engage your customer at the right time - for example, when they are returning to you, when they look at the product for a long time, or when you have a sale on a specific item. An automatic message will be sent to your site visitor according to the conditions you set. The message looks to the visitor as if it was sent by the operator.
The goal is to capture the visitor when they may need your help. If you succeed, you have a great chance of leading them to the checkout. Many Standard package customers increase conversions this way.
More benefits and examples of automatic messages here.
Statistics
How do you really know your customer care is good if you don't measure it anywhere? With the Standard package you get statistics such as the total number of chats, chat duration, customer satisfaction ratings and time to first response. The benefits of this information are innumerable - you can monitor the progress of your customer support quality, meet your business goals, plan your strategy, and more. We've described the usage of statistics in detail in this article.
.
Do you work in teams? The Pro package may come in handy
It's the most packed of our packages. It includes enhanced team functions and is suitable for companies that have a website in multiple languages or a large customer support department divided into smaller parts (such as complaints, orders, etc.). You can create separate operator groups based on which country or region they are dedicated to. Each group of operators then communicates only with its customers and can set its own team shortcuts.
So how do you choose?
The most important thing is to ask yourself: "What do I want to achieve with live chat?" If all you want is to offer customers the ability to communicate with you quickly and efficiently, the Free package will suffice. If your answer contains anything about growth, sales increase and customer loyalty building, check our price list again and reach for our paid packages. You'll see that it's worth it!
¿Sigues confundido? Contáctanos a través de la caja de chat en tu panel de control y estaremos encantados de comunicarnos contigo. Ten en cuenta que el servicio al cliente está incluido solo en los paquetes pagos.